We have been silent for the past few weeks and we wanted to let you in on why.  First off kelly got a job...so her time is, unfortunately, more limited but at least now she can pay the bills!  Secondly we have been helping Pretty Penny and The Parlour Gallery plan and promote their very first Craft Bazaar!
The Bazaar will be a day focused on a small number of handpicked local fashion and craft designers and their amazing fares.  With an intimated feel, shoppers will have the chance to come say hello and talk with each designers about their goodies, all while shopping the best vintage in the bay. Best of all Pretty Penny and The Parlour are hoping to make this a reoccurring event!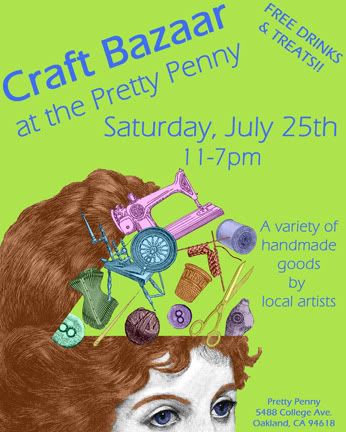 So mark your calendars and come see how talented your neighbors really are!  There will be good music and FREE libations!!
When:  Saturday July 25th  11am - 7pm
Where:  Pretty Penny 5488 college ave, oakland
Cost:  FREE!