Don't forget, saturday is the day Pretty Penny and the Parlour Gallery present the Craft Bazaar!!  We are soo excited to be participating and can't wait to see all your smiling faces tomorrow.  And to make things even more enticing we kindly donated one of our one-of-a-kind beer cozies to the bazaar's one dollar raffle!
So come to shop or come to win the raffle either way we would love you to be there!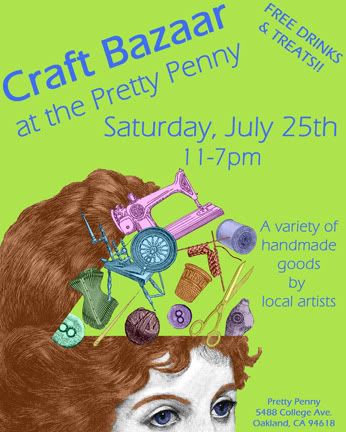 When:  Saturday!!
Where: Pretty Penny  5488 college ave, oakland
Participating Artists:
Wonderwear
, 
bennykelly
, 
Crooked Sister
, 
It's Scrap
, 
Queen of Hearts Apparel
, 
Volta Press
, 
kittinhawk
, 
Pollyannacowgirl
, 
Salvaged Beauty
, 
Abeo Bestia Design
, 
BirdversusBird Design
one dollar RAFFLE!
we will be having a raffle where you can win all these awesome prizes...
$25 gift certificate from SLASH DENIM
$25 gift certificate from VOLTA PRESS
custom made beer cozy by BENNYKELLY
fabric flower hair piece by CROOKED SISTER
leather earrings by IT'S SCRAP
handmade coin purse by BIRDVERSUSBIRD
Handmade brooch by SALVAGED BEAUTY
[caption id="" align="aligncenter" width="298" caption="you could win this at the raffle!"]
[/caption]