Now that Earth Day and Mother's Day are just around the corner we thought we should bring you some nifty ways to use recycled goods for a crafty gift!  Besides, what is more fun then gluing stuff together?
Benny and I are reluctant to throw out anything. So when we first sat down to decide what gifts to create, we really wanted to use up some of our stock piles.  Our first thought was of our growing collection of used spray tips from our spray paints.  They have a nice multicolor quality that we love and we have a ton of them!  So after a little deliberation we settled on a gift that is simple, quick and totally customizable....RECYCLED MAGNETS!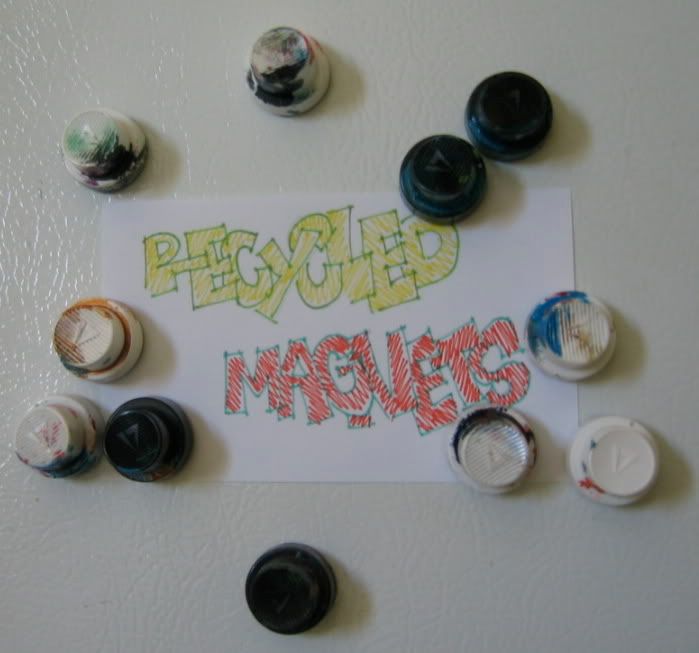 All the how tos after the jump...
Step 1:
find your used goodies
All you need are some scissors, a hot glue gun, magnetic stripping (found at any craft store) and your magnet face.  For the magnet face you can use just about anything that has a flat surface on one side.  For this project we used our used spray tips but you can use old toys, keys from keyboards (we recommend using laptop keys cause they are flatter on the bottom then regular keys), bottle caps, pretty much anything that catches your fancy.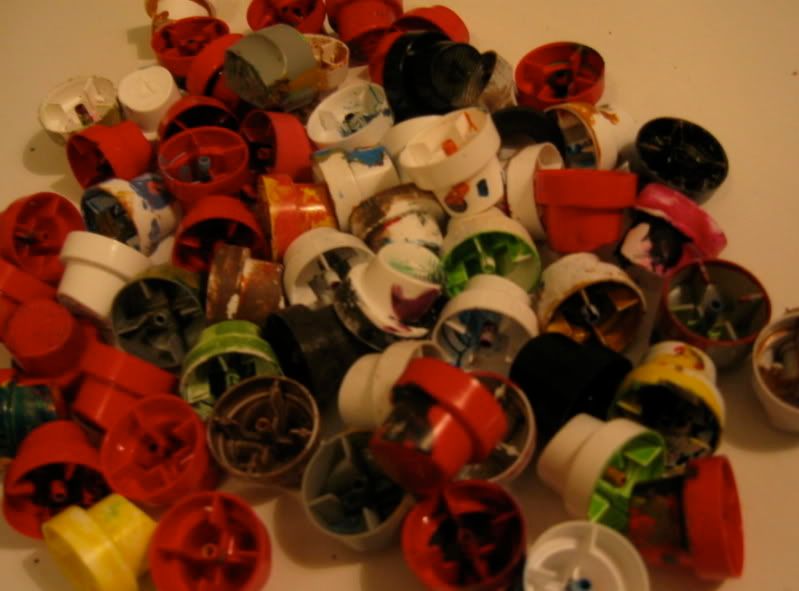 A great place to score recycled goods are reuse depots/stores or thrift shops.  Locally you can try the
Depot for Creative Reuse
in Oakland or
SCRAP
in San Francisco.  We adore SCRAP!!!
Step 2:
cut & glue & you're done!
Once you have your chosen recycled goodies now all you have to do is adhere the magnet stripping to the back of said goodies.  Using your scissors, cut off a piece of magnetic stripping just large enough for the back of your goody and glue it into place using the hot glue gun.  Super Easy!  Just make sure the magnetic stripping being glued is as flat as can be or it may have a hard time sticking to the fridge.
[caption id="" align="aligncenter" width="317" caption="keyboard key magnets!"]
[/caption]
Now you have a fantastically awesome set of custom magnets to give to someone special or how about your mom for mother's day!  Because, really, who loves a handmade gifts more than your mom?
[caption id="" align="aligncenter" width="447" caption="once we started gluing we just couldn't stop! check out some of the magnets we made..."]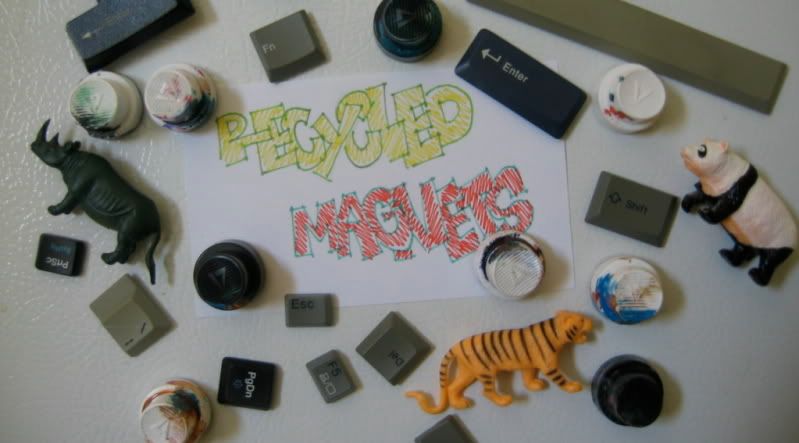 [/caption]