Don't quite know what to do with yourself tomorrow night after work?  Well if your in Oakland it's not because of a lack of options!  Here are 3 amazingly sweet events that are sure to keep you entertained with amazing art, great music, refreshments and not a penny paid at the door...
Rock Paper Scissors Collective:
Cardboard City
Through RPS's Community Collaborations Project, local artist James Ferrell has spent two month working with the disable artists at Creative Growth.  Ferrell and other RPS volunteers have worked with these artist to teach them how to take 2D drawings and turn them into 3D sculptures out of cardboard.  The works range from an oversize bust of Martin Luther King Jr. to a hybrid flower-satellite and will be available for sale, with proceeds going to the artists directly and funding future Community Collaborations.
To add that extra touch of special to the event Jame Ferrell, with the help of
Mark Inglis Taylor
and
Nat Russell
, have created some fantastic backdrops to compliment these creative pieces.  As well as backdrops you can also see some of Ferrell's other creations like gladiator with detachable arms!
Time: 6pm - 9pm
Where:
Rock Paper Scissors Collective
2278 telegraph, Oakland 94612
Pretty Penny:
Natural Inclination: A Group Exhibition
A sweet group art exhibit, featuring work by local artists with a natural inspiration.  Good art, good music, good people!!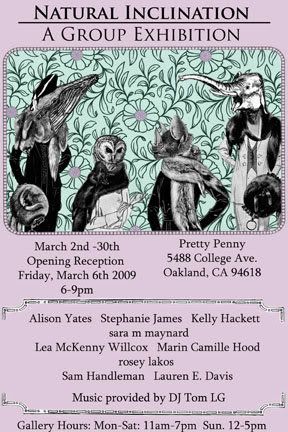 Time: 6pm - 9pm
Where: 
Pretty Penny
5488 College Oakland 94618
Amoeba Music:
Factory Party
Come help pay tribute to Andy Warhol and his Factory, Warhol's original New York city studio from 1962 thru 1968.  The party, taking place in a giant warehouse, will have nine rooms where you can experience different art mediums that Andy used to create his works, live art demonstrations, live music (Velvet Underground Cover Bands!!) and other theater based art forms.  It is sure to be a bit overwhelming but definetely fun!
Time: 6pm - 11pm
Where: 
Random Warehouse
1343 Powell, Emeryville 94608