So here is another great use for freezer paper, garment friendly stencils. This is a stenciler's dream if you like to spray paint fabric as much as we do! The stencil stays in place and just peels off after giving you NO OVER SPRAY! yay!

Step 1: gather supplies
This project is pretty simple the only necessities are an inkjet printer, xacto, freezer paper, iron and spray paint. This will also work with a blank silkscreen and fabric ink or straight fabric paint, instead of spray paint. Whatever your heart desires...
Show us your stenciled garments!! send us pictures of your latest stencils on your favorite clothes and we'll post you!
more steps after the jump...
Step 2: print and xacto
Start with a stencil design you want to use and print it out on the paper side of the freezer paper. Some printers can take the freezer paper straight but some need a little coaxing. To make things a bit easier you can iron (on medium heat) a sheet of regular printer paper to the waxy side of the freezer paper. This will give the paper more stability, making it easier to move through the printer. Just peel the paper once the image is printed, grab your xactos and begin the fun!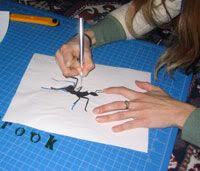 Helpful hint: for those not so hip or literate in photoshop but want to create a sweet stencil...try using the photocopy and cutout tools (under the Filter menu) on your jpegs to get an idea of the negative space you need to cut.
Step 3: iron and spray
Once you have your stencil cut place it on the garment, wax side down, and iron (on high heat). Make sure to apply enough pressure as you iron to achieve a strong seal with the freezer paper. Now bring out those colors and spray away!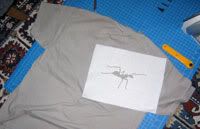 [caption id="" align="aligncenter" width="200" caption="finished product!"]
[/caption]