We are super excited about the next two months!  We have so much planned and would just love it if you all would be able to join us in all the shenanigans!!
November 21st, Friday...
To start off our busy holiday season we will be visiting the los angeles area and our old stomping grounds in the valley.  Our first stop is to the Northridge Hospital Holiday Craft Fair, were we will be selling our adorable little benny line.  Come by, grab your little a one of a kind holiday goodie and meet my awesome mom! (she'll be manning the booth..THANK YOU!!)    Location:  Northridge, CA
November 23rd, Sunday....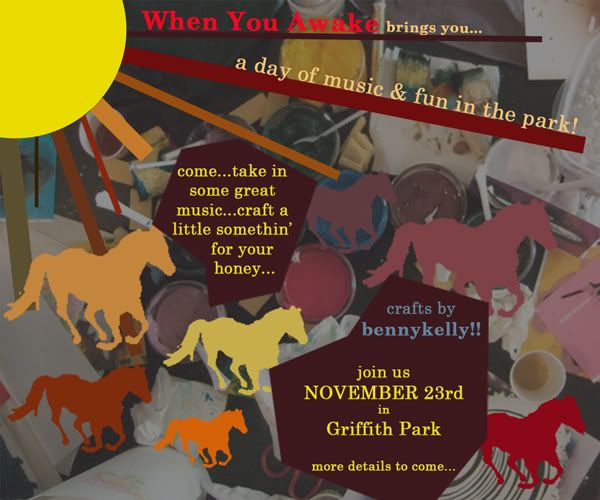 Next we will be heading south into Los Angeles proper for a CRAFT PARTY IN THE PARK!!  We always told you we would bring the party to LA and we finally have!   Its been a wait but trust us, this craft party will be bigger and better than our wonderful Oaktown party!  Once again we will be teaming up with When You Awake, who have work their booties off to gather some great local bands, for a day of music, crafts and fun in the park!!  So mark your calendars...come join us...craft a little holiday gift for your honey...take in some great tunes and enjoy!       Location: Griffith Park, Los Angeles
December 5th, Friday...
Indie Village Holiday Sample Sale!!  We were privileged to be asked to join a sweet group of local artists coming together, with the help of Mui Mui Studios, to bring you affordable goodies just in time for the holiday gifting season!  Come, peruse the many local art studios participating in Oakland's Art Murmur and then browse the fashionable talent of Oakland at the Indie Village!    Location:  Oakland, CA
December 14th, Sunday...
Finally we will be closing out this hectic crafting jaunt at Oakland DIY's Holiday Craft Fair!  We are super excited about this lovely event, as it will be our first with the Oakland DIY crew.  So join us at the stork club to stock up on all those holiday gifts, while support local talent!!  Location: Oakland, CA
keep checking back, as we will be posting more details as these exciting days draw nearer!