We had a fabulous time at Indie Mart and  it was one of our best shows yet!  Thanks soo much to everyone that came out and showed us some love!
Next up, we will be doing a new shopping event called
Urban Stitch
.  Once again we will be heading out to the city for this awesome event, featuring a ton of local fashion designers, art and great music.  There will also be gift bags full of awesome goodies given to the first 150 people to show up!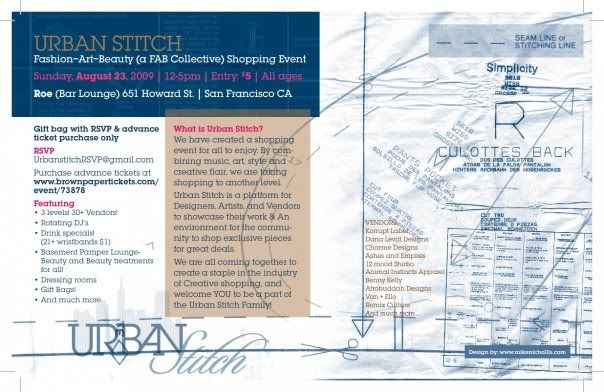 When:  Sunday Aug 23rd  12pm - 5pm
Where:  Roe  651 howard street, san francisco
Cost:  $5  (you can buy tickets in advance here)

about Urban Stitch....
an Stitch is Fashion, Art, & Beauty: a F.A.B. collective.
Urban Stitch is fashion, art & beauty:  a F.A.B. collective!  this organization was created based on the founding principle of a modern cross-cultural renaissance: exposure, marketing, and talents. Mindful of the current grassroots artist revival and a consumer population thirsty for original flavor, their network will facilitate an on-going venue that is at once fresh and familiar.