Boy is it nice to be home!!  We had a lovely time in Los Angeles visiting family, hosting a huge Irish feast (corned beef and cabbage, of course!), crafting with good friends.  We could not of enjoed ourselves more!
But our time in LA wasn't all play...we got to stop in on a wonderful band that we love not only for their music but the people involved,
Shmoe
!  We are currently working with Shmoe as the featured band in our revival of "fabric & beats".  So get excited for new Shmoe tees, posters, a new page for the website and a new etsy store soon to come!


[caption id="" align="aligncenter" width="264" caption="Shmoe now adorns our wall!"]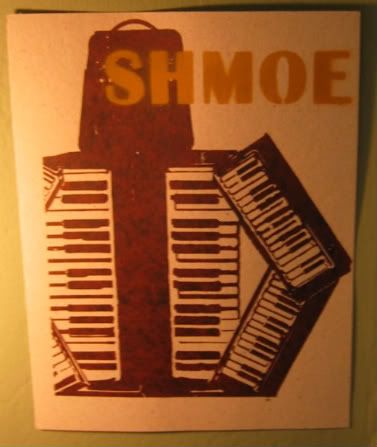 [/caption]

What is fabric & beats?

As far back as kelly can remember she made a habit of sitting in living rooms listening to her friends play their multitude of instruments.  Never quite having the technical flare to play an instrument, kelly often only participated through encouragement.  Recently though the idea of encouraging her friends brought her to one realization: fashion + music = encouragement in the best way possible, stylish promotion!

So since we love nothing more than great music and new fashion, benny & kelly presents fabric & beats, a dedication to those friends we have who love the music more than anything else!